The Jewish Digital Cultural Recovery Project (JDCRP) was initiated in 2016 by the Claims Conference and the Commission for Art Recovery (CAR) as part of an ambitious plan to expand and develop the database of objects plundered by the Einsatzstab Reichsleiter Rosenberg that transited through the Jeu de Paume in Paris – the ERR Database created by the Claims Conference.
With its expansion, the Database is on track to become the most comprehensive listing of all Jewish-owned cultural objects plundered by the Nazis and their allies, from the time of their spoliation to the present day, pursuant to a resolution of the European Parliament and the 1998 Washington Conference Principles.
The Jewish Digital Cultural Recovery Foundation (JDCRP Stiftung) was established under German law to accept funds for the Project. Rüdiger Mahlo, Representative of the Claims Conference in Germany, is Chair of the Board of Trustees, and Wesley Fisher, Director of Research at the Claims Conference, represents the Executive Board.
Documentation of Persecuted Jewish Collectors

In February 2023, the JDCRP announced the publication on its website of an initial list of more than 2,100 Jewish collectors in eight European countries whose artworks and cultural objects were stolen, confiscated, or forced into sale by the National Socialists and their allies.
Pilot Project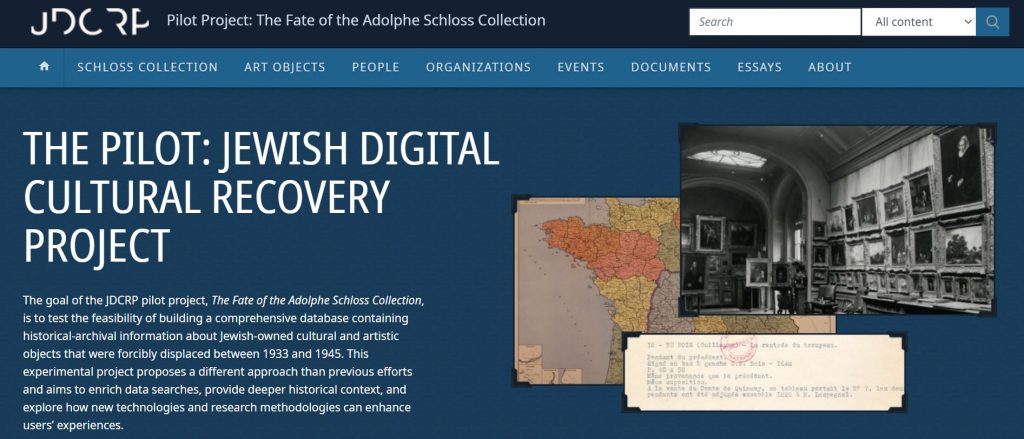 The JDCRP Pilot Project entitled The Fate of the Adolphe Schloss Collection, co-funded by the European Union (EU), was completed in July 2021 with the launch of a central database of documentation of cultural objects plundered by the National Socialists, their allies, and their collaborators.
The National Socialists' systematic art plunder was especially intensified after 1938 when Germany annexed Austria and then invaded most of Europe. Objects of art such as paintings, sculptures, Judaica, and books were forcibly taken from private Jewish collections. The annihilation of Jewish culture and the unprecedented displacement of a vast number of cultural objects during the Nazi era have never been fully documented and the pilot project that concentrated on 333 paintings that were part of the Schloss family's collection included all the phases of implementation of a comprehensive database, with a smaller volume and thematic scope that allowed for the JDCRP database to be designed and built based on the results.
Contact Information:
European Office
Jewish Digital Cultural Recovery Project
c/o Schwenke Schütz
Bernburger Strasse
10963 Berlin
Email: info@jdcrp.org