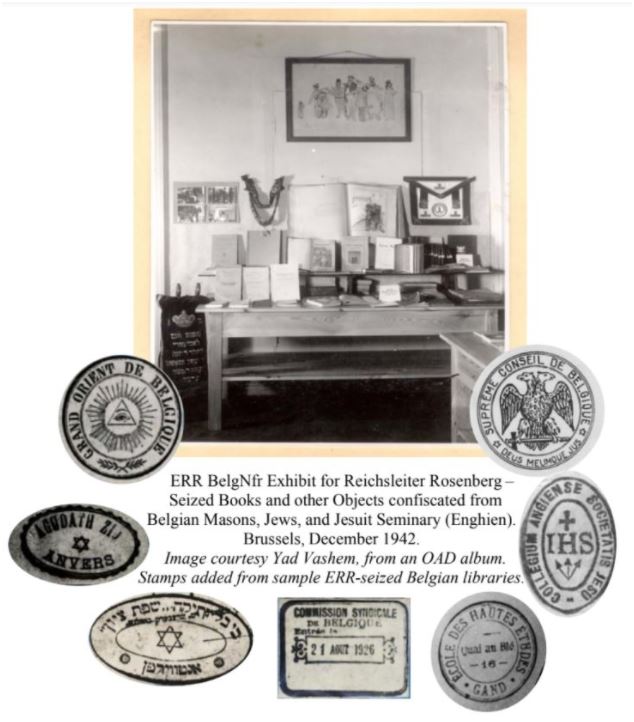 While the ERR looting of books and archives was even more extensive than its looting of art in many German-occupied countries where they operated, specific compilations of German seizure documents for libraries in various countries has long been lacking. The presentations in this new section provide overviews in specific countries of the pattern of ERR library seizure and major destinations for the books seized. Facsimile editions of the scattered ERR German documents listing library seizures are provided in compilations for several countries for which they have been found.
The French coverage includes facsimiles of ten scattered original lists of library seizures in France carried out by the ERR; an article by Patricia Kennedy Grimsted on the background and context of ERR library seizures in France; and a combined chart listing the names of individual and institutional victims and data about the priority ERR seizures in France.
Also included is information on the fate of the many hundreds of thousands of books seized by the ERR from France that were found by a Red Army trophy brigade in Silesia and taken to Minsk, as presented on a Belarus published CD ROM, French Autographs in the Holdings of the National Library of Belarus, courtesy of the National Library of Belarus.
A French-language version of much of the information regarding France is now available on the website of the Commission française des archives juives (CFAJ) at http://www.cfaj.fr/publicat/listes_ERR_France.html.