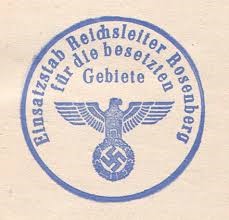 Ukraine
The State Archives in Ukraine has the largest collection of ERR documents in the world. The Claims Conference arranged for these 140,000 pages, held by Ukraine since 1945 (in secret before 1990), to be digitized and adapted for the Internet in 2010, with cooperation from the Bundesarchiv, the German Federal Archives. Many documents describe individual items, while others list the number of crates from specific museums or libraries, detailing their origin, date of plunder and where they were stored or relocated by the Nazis.
Germany
The second-largest collection of ERR documents in the world, held by the Federal Archives of Germany, is now available online. The Claims Conference sponsored the digitization of the bulk of these records. 
Elsewhere
Partly with the assistance of the Claims Conference, digitized ERR files from Moscow, Berlin, Koblenz, Kyiv, Amsterdam, Paris, New York and Washington are also available through the International Portal for Records Related to Nazi-Era Cultural Property which is hosted by the European Research Infrastructure (EHRI) since June 2017.